2023 Platinum Trusted Service Award Winners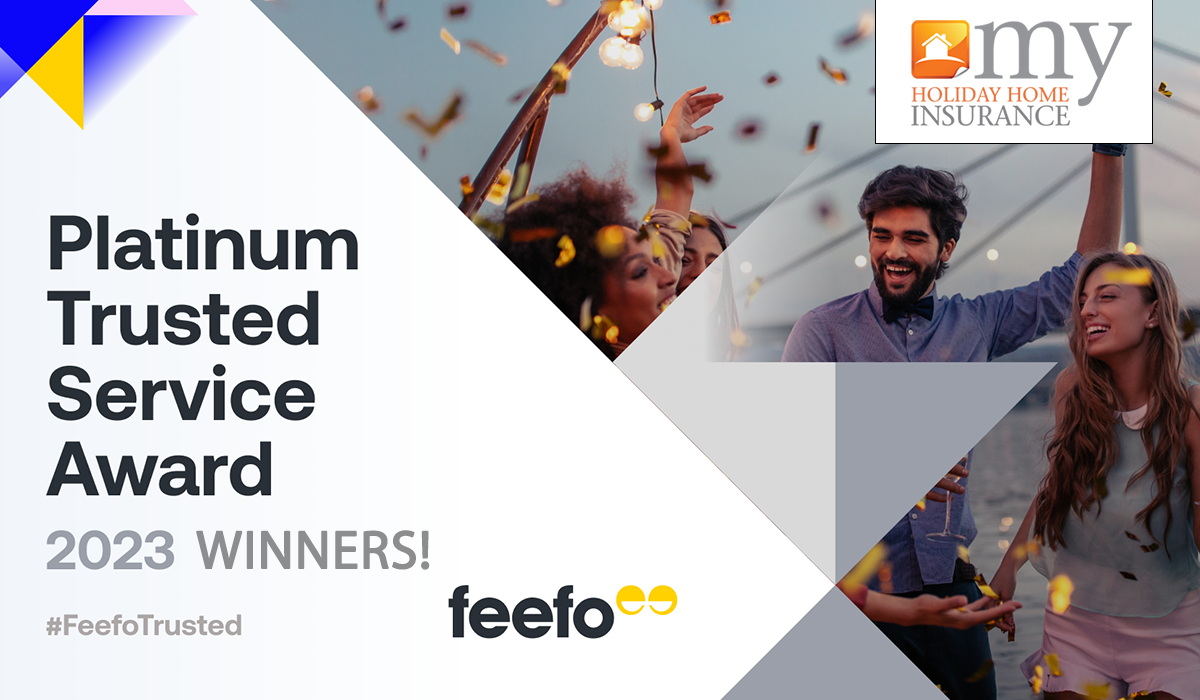 Today (17th January 2023), My Holiday Home Insurance were announced as winners of the 2023 Feefo Platinum Trusted Service Award.
Every year Feefo celebrates businesses who deliver excellent customer service with a Trusted Service Award. Feefo established the Trusted Service Awards in 2014 to recognise brands that use the platform to collect verified reviews and receive exceptional feedback from their customers. The awards are unique because they truly reflect a business's dedication to providing outstanding customer service by analysing feedback from real customers.  Working with over 6,000 brands, Feefo is the world's largest provider of verified reviews, helping brands understand customers by analysing verified reviews and providing insight into trends, needs and habits.
The Feefo award is rated by real customers who have had proven experience with My Holiday Home Insurance and each review is verified by Feefo.  With consumer confidence at near historic lows due to rising inflation, as well as research from the Institute of Customer Service revealing that complaints rose to 17.3% in the second half of 2022, this award celebrates brands that are successfully navigating tough market conditions to deliver exceptional service.
Only businesses whose customers highly rate their experience make the grade and you can only receive a Platinum Trusted Service Award if you have achieved the Feefo Gold standard for three consecutive years or more. The Platinum award is the ultimate accolade and recognises businesses that continue to deliver exceptional customer service year after year and My Holiday Home Insurance have received the Platinum award for 4 consecutive years.
About My Holiday Home Insurance
My Holiday Home Insurance is a UK based, family-run business, providing specialist insurance to more than 45,000 leisure policyholders. We are one of the UK's leading providers of insurance for holiday lodges, holiday homes, chalets and static caravans and have 18 years' experience offering one of the most competitive and comprehensive policies available for leisure home owners. We take the time to understand our customers and their particular needs and tailor the insurance to meet their requirements as we understand that your holiday home is a large investment.
In 2020, My Holiday Home Insurance were recognised by the insurance industry and announced as winners of the 2020 Personal Lines Broker of the Year Award and this award stand pride of place next to our Insurance Times Claims Excellence Award, which was awarded for the service our customers receive whilst making a claim. Both awards affirm that we are 100% dedicated to providing the very best customer experience, whether you are contacting us for the first time, renewing your insurance or making a claim and are a true reflection of our commitment to outstanding customer service.
The 2023 Platinum Feefo Trusted Service Award is a stamp of approval when it comes to delivering outstanding customer service and means that as a company we are delivering time and again for our customers, always placing customer service at the forefront of our business.
Feefo Congratulate Park Home Assist Insurance
Congratulating My Holiday Home Insurance, Tony Wheble, CEO at Feefo, said: "This year has been a difficult one for so many businesses. I'm delighted to recognise thousands of our clients that have overcome various challenges to provide such high levels of customer service and satisfaction.
"The Trusted Service Awards have always been about recognising companies that go way beyond the norm in customer service and in turn receive great feedback from delighted customers.
"A particular congratulations to My Holiday Home Insurance for winning a Platinum Trusted Service Award by providing great customer service consistently over a number of years. I look forward to seeing them continue to achieve next year and beyond."
About Feefo
Feefo is a leading global customer reviews and insights platform on a mission to empower its clients to fully understand how their customers experience their product or service.
The Feefo suite of software, combined with its technical solutions expertise, enables its clients to gain a deeper understanding of customer sentiment, behaviour and intent, empowering them with insights to make better business decisions and improve their return on investment. With 96% of customers relying on reviews to purchase, Feefo also creates trust between consumers and businesses by adopting a unique approach to only collect verified reviews from real people.
This is a marketing article from My Holiday Home Insurance, a specialist provider of insurance for holiday lodges, holiday homes, leisure homes,  holiday chalets and static caravans. Our team of experienced advisers are always happy to help, so for more information call our Northampton office on freephone 0800 988 0890.
To stay up to date with similar topics please like and follow us on LinkedIn, Facebook and Twitter.