A Dog Friendly Holiday Home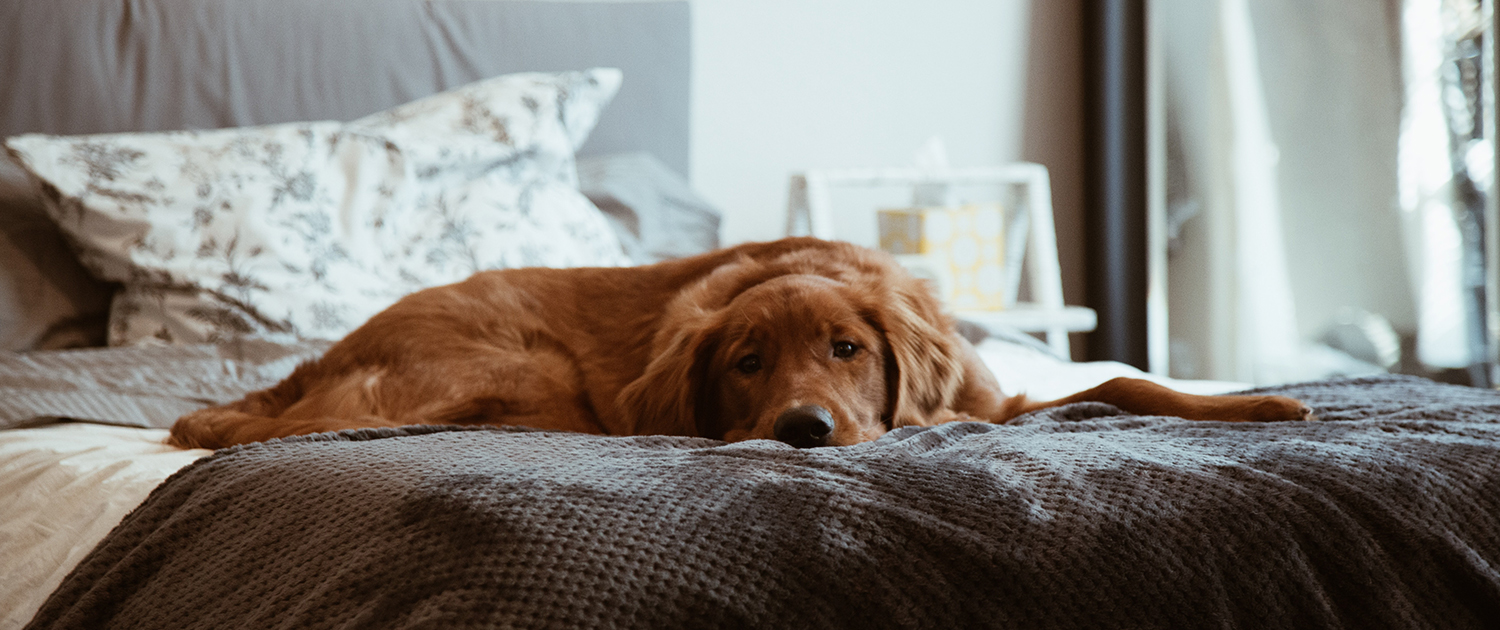 One of the big attractions of the increasingly popular staycation is the opportunity to stay in dog friendly holiday homes. It is important to think beyond just being somewhere that accepts dogs, but to make it easy for everyone involved. A really dog-friendly holiday home will attract more guests and possibly for a longer stay, as there is no need to get back to release pets from kennels or dog-sitters.
Making a dog friendly home does not have to be a huge task. With a little thought, a few simple modifications and the addition of some simple extras, your holiday home can be as welcoming to our four-legged friends as it is for your human guests.
Let your guests know what to expect
Save your guests the trouble of needlessly bringing all the things you provide by including the details of how their dog is catered for in your holiday home in post-booking email correspondence. Don't just ask how many dogs are coming but their names and breeds and anything else the owner thinks you should know. This is a great opportunity to build a relationship with your guests and another reason to go dog-friendly in the first place.
The dog's holiday home welcome pack
Include the dog in the welcome to the family.
A small parcel with the dog's name on and inside, maybe a toy or two (perhaps not squeaky) can really help to make your guests feel instantly understood and welcomed.
Include a few doggy treats. Something to chew on to keep them occupied and secure in unfamiliar surroundings is a real gift to travel weary dog-owners who have just arrived for their holiday.
In your welcome pack, share information about the local area with a dog-friendly angle.
Having found themselves a lovely dog-friendly destination in your holiday home, help take any more hassle out of your guests' holiday experience.
List the dog-friendly restaurants and pubs. There are plenty of places which now happily accept dogs, but sometimes they can take some tracking down. No one wants to plan a day out only to find themselves hunting for the place to eat that will let them in with a dog. Help your guests avoid disappointment.
It might be an idea to hook up with one of these establishments and work out a reciprocal deal where you encourage custom for them and they offer your guests a discounted meal or some other benefit if they bring their dog.
The local vets
Provide the address and contact details of a local vets. If there is a People's Dispensary for Sick Animals (PDSA) within driving distance, provide details for that too.
Good dog-friendly walking routes
Provide information of good routes and ways for your guests and their dogs, where the dogs can be unleashed and allowed to run. Provide maps or simple directions. Where it is relevant, suggest safe alternatives to any routes to and from your holiday home avoiding fast roads with no pavement or verge, for instance. The extra care will be appreciated.
A reminder of the country code
This is always a good idea if your holiday home is in the countryside, so your guests, and by extension you, are not causing problems for local farmers and other local residents.
Dog-friendly garden design at your holiday home
If your holiday home has a garden, this is the place to start to make it a dog friendly place.
There are many types of garden that are equally dog-friendly and they all roughly follow these simple principles. Less to dig up. Less to maintain. Easy to clean.
Make your garden secure. Install a fence with a gate or close any gaps in any existing fencing.
No one wants to have to sit on constant watch while on holiday to stop their dog wandering off alone to explore the unfamiliar surroundings of the local area. Where it is possible, the creation of a closed outdoor space is a real benefit for dogs and their owners. The convenience of being able to let children and dogs out unsupervised into the private, secure space outside your holiday home can make a real difference to the relaxation levels of your guests.
If your holiday lodge, leisure home or static caravan is on a site and you cannot create a closed space, you should consult the site's rules about pets outside.
A dog friendly holiday experience should start on arrival. A fresh bowl of water outside by the door is a welcome sight for your guests who might be letting their dog out after a long journey to your holiday home. One less thing for them to do as they get their bearings, unpack and settle in.
Create a covered space outside your holiday home. To provide shade for an overheating dog is one of the reasons why a covered area outside is always a good idea, if space allows it, for humans and dogs alike.
Some dogs love water. In the heat of summer, dogs love a pool to splash in. A small, tough inflatable pool is great for kids and dogs alike and all you need to add a little extra dog-friendliness. Make sure your guests understand they need to be cleaned after each use and then cooling down is safe and fun.
Additional dog friendly facilities in your holiday home
Provide a poop-scoop and a dedicated receptacle with a lid for dog-waste. Most responsible dog owners will have brought something themselves but your extra thought will be appreciated. This encourages your guests to maintain the outside spaces of your holiday home. Not even the most passionate dog-loving guests want to be met with such 'gifts' or even the hint of them from the previous occupiers.
Provide two bowls for each dog. This will depend on the number of dogs and their eating habits but work on a general rule of one water and one food bowl for each dog. Even if your guests are going to bring their own bowls provide a wipeable mat for them to put them on.
Provide a dog basket. Most people bring their own but it is good to use yours and thoroughly clean it. Or use one in which they can put their own blanket and cushions and take away with them. Be aware that you can import bed bugs and other pests on dog baskets. Provide a spare blanket yourself for the same reasons as the basket.
Provide a spare lead and adjustable collar. It does happen, dogs without their leads and collars jump in cars to go on holiday and someone forgot to pack them. For not much expense, these items can make all the difference.
Keeping your dog friendly holiday home clean
A dog friendly holiday home will require more cleaning when you have four-legged guests. So plan for this and you may want to consider adding a small fee in your pricing.
Provide removable, washable covers and throws for all the furniture.
People don't want to mess up your beautifully appointed holiday home, so don't let them. Give them what they need to protect it from wayward hounds. Keep more spares of all your blankets and soft furnishings, than you might otherwise, to cater for the occasional bored puppy or other unruly dog. This way your guests can deal with the inevitable fallout of a muddy or over-excited, malting, totally normal dog without feeling like they have put you to any great or unexpected inconvenience.
Having made sure that it is genuinely dog-friendly you can now confidently advertise your holiday home to the dog-owning public.
You do have to go a bit further if you want to attract pet owners to your holiday home but it is worth it, firstly because of the pleasure it brings them and also the potential bookings it brings you. With only a little extra effort, making your holiday home dog-friendly can be a great opportunity for great reviews, return custom and happy guests.
This is a marketing article from My Holiday Home Insurance, a specialist provider of insurance for holiday homes, leisure homes, holiday lodges and static caravans. Our team of experienced advisers are always happy to help, so for more information call our Northampton office on freephone 0800 988 0890.
To stay up to date with similar topics, please like and follow us on LinkedIn, Facebook and Twitter.