Holiday Home – Insurance Guide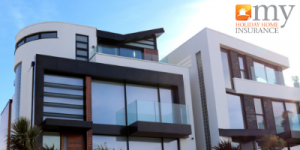 Making sure that your holiday home has the right level of insurance cover is essential, as it could be rented out or left unoccupied for days or weeks at a time.  If you're insuring a holiday home for the first time, or you want to check that you have the right holiday home insurance to meet your needs, then this article can help you to protect your property.  Whether your holiday home is a house, a villa, a flat or a lodge, then it's worth talking to a specialist holiday home insurer.  As well as understanding your requirements, you may well find that the insurance is less expensive.
What does holiday home insurance cover?
Policies differ but your main goal is to protect your home and the contents inside, so holiday home insurance mainly comprises buildings and contents cover. 
Buildings insurance covers the structure of your property against risks such as fire, storm and flood, and could assist in repairs or building work that may need to be carried out if the property is damaged.  You must take into consideration the cost to rebuild your home to make sure you that have the right level of buildings cover.
Be specific with your insurer and let them know exactly what you would like covered.  If, for example, you these must be specifically added to your policy.  
Contents insurance can cover possessions inside your home and it's essential if you are letting out your home – either to friends and family or on a commercial basis.  Normal home insurance will cover your family and guests in your home, however if you are renting your property, you face extra risks as a landlord.  You must take into consideration the cost of the contents inside your holiday home to make sure you have sufficient cover. 
Consider all aspects of your insurance!
For example, emergency travel cover is included as standard for some countries, which may be a significant cost if you need to visit your property in the case of an emergency.  You are also covered for the loss of rental income if you are unable to rent your holiday home for a period of time – for example if it is damaged by flood or fire.
What type of property can holiday home insurance cover?
There are numerous types of properties that can be covered under holiday home insurance, such as: holiday apartments in coastal resorts, holiday lodges in holiday parks, holiday cottages, villas or houses in the UK or abroad and holiday caravans. 
Do I need to let my insurer know it will be a holiday home?
Yes you do!  A standard home insurance policy could be invalid if you do not let your insurer know it is not your main home.  If your holiday home is left unoccupied for more than 30 days, a standard home insurance policy will not cover you.  You must request cover for a property that is not your main residence to avoid non-payment in the event of claim.  Making sure you have the right level of cover for your holiday home is essential, so always read the policy documents. 
What sort of cover could I get if I insure my property with My Holiday Home
Insurance? 
Standard holiday home insurance buildings cover includes:
Comprehensive cover for loss or damage directly caused by fire, storms, lightning, weight of snow, fallen trees
Damage caused by escape of oil or water
Subsidence cover
Alternative accommodation cover
Emergency travel cover
Public liability cover up to £5million
Standard holiday home contents cover includes:
Household goods and personal property within the home
Accidental damage to televisions, audio and video equipment and computers
Theft of contents in the outbuildings
Garden furniture up to £1,000
Domestic freezer contents up to £500 
Optional Cover:
Accidental damage to both buildings and contents. (Please note that this is excluded when the property is let.)
Please note that terms and conditions apply.  Further information is available on what cover is included with our holiday home insurance policies, and you can download an example policy document and a policy summary of holiday home insurance.
Contact us  for more information about holiday home insurance, or follow us on Facebook, Twitter and LinkedIn.
https://www.myholidayhomeinsurance.co.uk/wp-content/uploads/2018/11/Holiday-HOme-INsurance-GHuide.png
200
400
My Holiday Home Insurance
/wp-content/uploads/2018/04/my-holiday-home-insurance-logo-1.png
My Holiday Home Insurance
2018-11-14 12:06:10
2021-02-03 09:48:29
Holiday Home – Insurance Guide