My Holiday Home Insurance Receive 2020 Feefo Service Award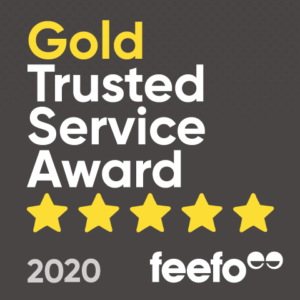 This month, My Holiday Home Insurance won the 2020 Feefo Gold Trusted Service Award, an independent seal of excellence that recognises businesses for delivering exceptional experiences, as rated by real customers.
About My Holiday Home Insurance
My Holiday Home Insurance have more than 14 years' experience of insuring holiday homes, holiday lodges, leisure homes and static caravans. We're one of the UK's leading providers of leisure home insurance and have over 25,000 policyholders. We tailor each insurance policy to meet the needs of our customers whilst always providing them with the highest level of cover and numerous choices of optional extra cover.
The Gold Trusted Service Award
Created by Feefo, Trusted Service is awarded only to businesses that use Feefo to collect genuine reviews and insights. Businesses meeting the high standard, based on the number of reviews they have collected and their average rating, receive the award. A highly-valued badge of approval, this accreditation remains unique, as it is based purely on the interactions with real customers. As all reviews are verified as genuine, the accreditation is a true reflection of a business's commitment to outstanding service.
Feefo have given Gold Trusted Service awards to businesses who have collected at least 50 reviews between January 1st 2019 and December 31st 2019, with a Feefo service rating of between 4.5 and 4.9.  Assist Insurance Services Ltd collected an average service rating of 4.6/5 which is a great achievement.
Steve Leech Director at Assist Insurance Services Ltd commented: "We're very excited to receive this award from Feefo because it's based on the feedback of real customers, who are the most important judges of all. It recognises how hard we work to give all our customers the best possible experience. Everyone at Assist Insurance is fully committed to the highest quality of service, so it's important for us to listen, understand and respond to all our customers. This award is a testament to the hard work and effort of everyone at Assist Insurance Services Ltd."
Congratulating Assist Insurance on winning this year's award, Steph Heasman, Director of Customer Success at Feefo, commented: "The Trusted Service award has always been about recognising companies that go way beyond the norm in customer experience and generate great feedback from happy customers.
"This year we've been delighted to see so many companies using Feefo to provide outstandingly high levels of all-round service – it's what Feefo is all about. We help our clients give their customers the best experiences possible. I'm confident we'll see more success from businesses partnering with us throughout 2020."
Feefo is a reviews and customer insights technology company that provides businesses with the tools to collect real, purchase-verified reviews and insights. Working with over 3,500 clients, Feefo ensures that all feedback is authentic, by matching it to a legitimate transaction, in order to increase consumer confidence and enable businesses to make smarter business decisions.
For similar topics like this please like and follow us on Facebook, LinkedIn and Twitter.