The Importance of Home Emergency Cover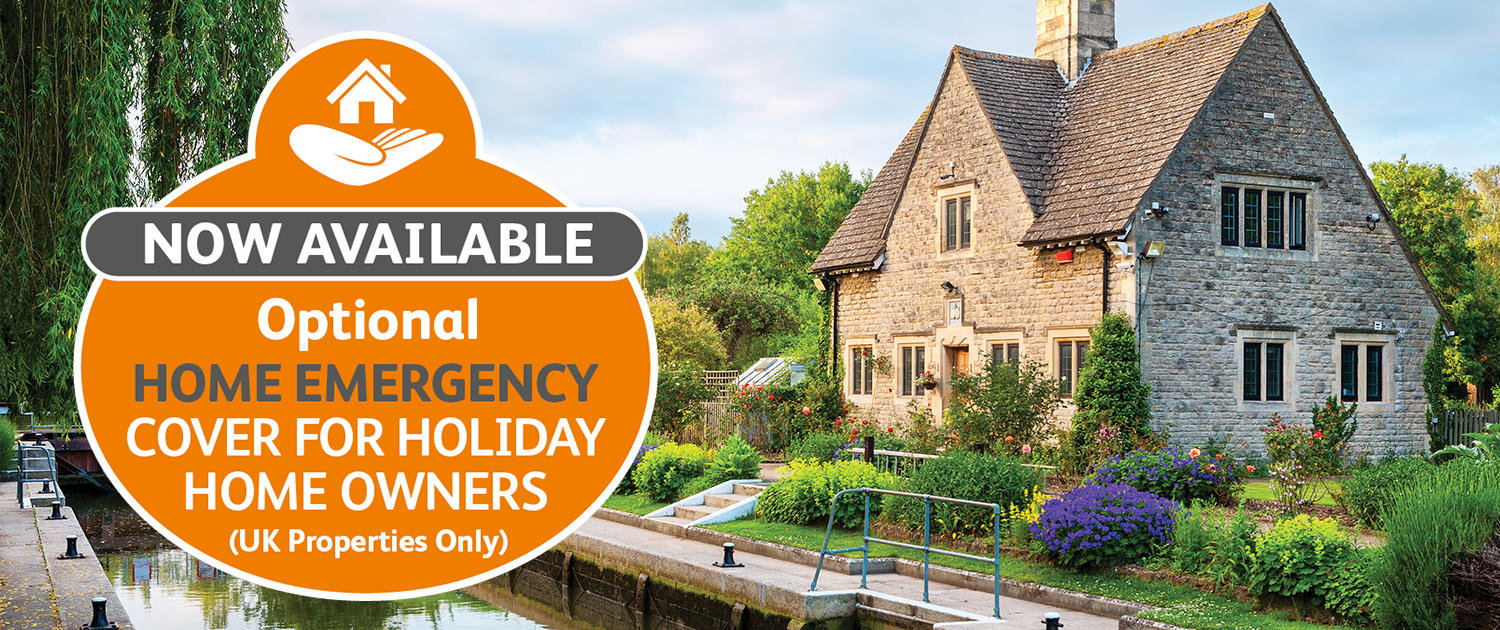 Home Emergency Cover is an optional extra that operates alongside your holiday home buildings and contents insurance cover. The cost for home emergency cover is £25 for the whole year. It provides the added assurance, that in the case of sudden and unexpected damage or failure in your home, which leads to an emergency, help is only one phone call away.
Your boiler fails on a cold night, your plumbing suddenly springs a leak, you discover an active wasp nest under your holiday home because they are now in the living room, your electricity supply is cut off by damage to cables or a storm takes a chunk of roofing with it and the rain is coming in. These events are rare but of course, they do happen and can be very disruptive and distressing.
Home Emergency Cover is designed to assist you in making a resolution to an already difficult situation, as simple and hassle-free as it can be. Even if you have all the tools and time to carry out temporary repairs, you may still want the reassurance of an experienced and trusted professional, provided by us and works that are managed by us from start to completion.
Safety first
In the event of a failure or damage, which leads to an immediate threat to life and limb, such as a gas leak, remember to contact your provider and the emergency services if necessary and to make yourself safe according to their advice. If the emergency is not an immediate threat, your priority is to stem the problem as quickly as possible.
24-hour helpline
With Home Emergency Cover, you can call our helpline on 01384 884040 which is open 24/7, 365 days a year and you will be asked some questions to check your identity and the details of your emergency. The cover will be explained to you and you will be informed exactly what will be done next.
If your claim is accepted, they will then provide a professional contractor to assess and if possible, temporarily repair your problem within 24 hours.
The temporary repair will prevent further damage to your home and give you the time to seek and arrange a more permanent solution. (If a permanent solution is available at the same cost, then that work will be carried out by our contractor.)
With no excess to pay, up to £1,000 per claim, no call out charges (as long as you or another responsible adult are in when the contractor arrives) there is no limit to the number of claims you can make under Home Emergency Cover.
Home Emergency Cover, provides extra assurance and peace of mind. If you inform us within 48 hours of the emergency and as long as you have carried out all the necessary, routine maintenance up to the point you make a claim, you may be covered for events such as:
Plumbing and drainage:
Leaks caused by the unexpected failure of the drainage system or internal plumbing (including central heating pipes).
Primary heating system:
Cover for the complete breakdown of the central heating system which results in the loss of heating and/or hot water.
Roofing:
Emergency repairs following missing, broken or loose tiles causing internal water damage.
Alternative heating:
Receive up to £50 towards the cost of alternative heating sources where these are deemed necessary in the event a claim has occurred.
Internal electricity:
Covers your internal electrics supplying power to your Holiday Home following electrical failure of at least one complete circuit.
Pest infestation:
Cover for the removal of certain types of pest infestation (such as a wasp or hornet nest, mice, rats or cockroaches) from the holiday home.
Boiler Replacement Contribution:
You may also receive a contribution of up to £500 towards the cost of a brand-new, like for like replacement boiler upon production of an original receipt for payment.
Overnight Accommodation
Where it has not been possible to resolve the emergency, following an accepted claim for emergency repairs by a contractor under another section of the policy and the holiday home is rendered uninhabitable, then you may be eligible for overnight accommodation elsewhere.
The Emergency Claims Helpline Number is 01384 884040
Calls to the helpline will be charged at your standard rates.
View our home emergency policy wording for holiday home owners
Please note that all cover is subject to acceptance of terms and conditions
This is a marketing article from My Holiday Home Insurance, a specialist provider of insurance for holiday homes, leisure homes, holiday lodges and static caravans. Our team of experienced advisers are always happy to help, so for more information call our Northampton office on freephone 0800 988 0890.
To stay up to date with similar topics please like and follow us on LinkedIn, Facebook and Twitter.