Fire Safety in your Holiday Home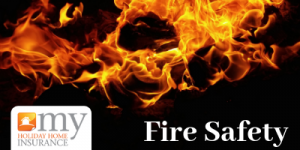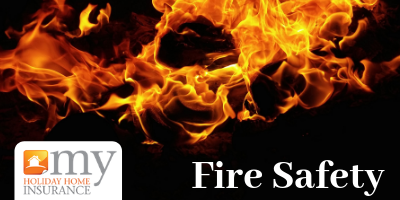 Whether your holiday home is being Let, used by you, or a guest, fire safety in your holiday home is essential.  There are some important safety checks to consider and although it will not completely eliminate the risks, it will help to reduce it.  We all know how devastating a fire could be, you could lose everything or worse, someone could get injured.  Everyday things we use such as kitchen appliances and open fires come with their own risks, so you should monitor them frequently.  Here are a few general tips on what you could do to reduce the risks of a fire in your holiday home.
Fire risk assessment
If you are letting your holiday home out, you should have a fire risk assessment carried out regularly so that you can identify any potential hazards.  This way you can take the relevant precautions to minimise the risks and keep your guests safe. Display a fire notice so any guests know what to do if there is a fire.
Kitchen
Cooking appliances can cause fires, so there are some things you can do to reduce the risks.  Clean the appliances regularly, so any built-up fat or grease is removed, as this could pose a fire risk. Check appliances regularly so that any sign of damage can be repaired or replaced.   If you are letting out your holiday home, keep a fire blanket that is easily accessible.  Using water on some fires can act as an accelerant so avoiding this all together is a better alternative.
You should keep appliances such as toasters or grills as clean as possible. Remove anything that could cause a fire such as crumbs and keep them away from areas that can catch fire easily, such as curtains or cloths.
Electrics
Electrics that are faulty can cause fires so make sure that all your equipment is in safe and good condition.   Try not to use too many plugs in one socket as this could overload the socket and cause a fire.
Log burners and open fires
Open fires and log burners are very attractive feature inside a holiday home, giving you that feeling of cosiness, however they do increase the risks of a fire. Sweep your chimney annually and use a fire guard to protect you from burns.  Be wary of hot ash and dispose of it appropriately outside the property.
Smoke Alarms
Fit and maintain a smoke alarm.  A smoke alarm can save lives, so be sure to test it at least twice a year to make sure it is in good working order.  Put your smoke alarms in the right place inside your holiday home, so not too close to the kitchen where you can set it off accidentally and it becomes a nuisance. This way, when it does go off you know that it is a real warning.  If your holiday home has more than one floor make sure you install alarms on each landing.
These are just a few things you can do to protect your holiday home from fire but there is a lot more, so speak to your local fire department for further information.
For similar information or tips on Holiday Homes, please follow us on Twitter, Facebook & LinkedIn.
https://www.myholidayhomeinsurance.co.uk/wp-content/uploads/2019/02/Fire-Safety.png
200
400
My Holiday Home Insurance
/wp-content/uploads/2018/04/my-holiday-home-insurance-logo-1.png
My Holiday Home Insurance
2019-02-08 10:01:52
2021-02-03 09:48:29
Fire Safety in your Holiday Home