Maintaining the Exterior of your Holiday Home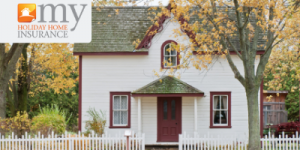 Maintaining the exterior of your holiday home is essential, as your property is an important asset for you.  Having a good process to keep the exterior of your property in order is also really important if you have to make an insurance claim.  A claim made against a poorly maintained property may not be covered under your holiday home insurance. Taking reasonable precautions to protect the exterior of your property will help you to reduce the risks, long-term damage and expensive repair costs associated with a property that is not maintained regularly.
Below are some general tips and advice about maintaining the exterior of your holiday home:
Exterior walls
The exterior walls on your holiday home should be checked regularly for cracks and any damage should be repaired as soon as possible. A crack in the wall can cause a larger repair bill if not attended to quickly and could lead to things such as damp problems. Make sure that there are no broken or missing tiles and fix anything that may be loose, as soon as possible. Falling tiles could cause damage to other areas of your own property or even damage your neighbour's property.
Gutters and drains
Damaged or blocked gutters and drains can not only damage your property but could affect your neighbours too.  For example, if your drains are blocked and there is water overflowing, this can cause damp issues and may cause flooding. Clear any debris, leaves or foreign items out of your gutters and replace any damaged sections of your gutter.
Window and door frames
Check your windows & door frames for any flaking that may occur and carry out the necessary repairs. Maintain your frames regularly, especially if you live near the coast.
Terraces and Patios
Your patio or terrace should be washed down to clean away any dirt. This will make it easier to check if there are any missing tiles or anything that may need to be replaced.  Anything that may be damaged on your patio or terrace should be removed and replaced, which will help to prevent frost damage in the winter and to ensure good surface drainage.
Chimney
If you have a chimney, make sure you have it swept at least once a year and check it is correctly covered. Poor maintenance of a chimney could lead to a chimney fire and water running down your chimney could cause damp issues within the home.
Security in unoccupied properties
If your property is left unoccupied for long periods of time, make sure that all of your windows and doors are locked and do not leave keys under mats or above door frames, making it easily accessible for a burglar.  Make sure all locks are in working order and replace any that may be damaged as this will help in keeping your holiday home safe and secure.
Taking reasonable steps to maintain the exterior of your holiday home and getting things fixed before they escalate into a bigger problem, could save you money in the long term.  It can also help if you are unfortunate enough to need to make a claim.
For more general tips on your holiday home, please follow us on Twitter, Facebook & LinkedIn.
https://www.myholidayhomeinsurance.co.uk/wp-content/uploads/2019/01/Untitled-design-20.png
200
400
My Holiday Home Insurance
/wp-content/uploads/2018/04/my-holiday-home-insurance-logo-1.png
My Holiday Home Insurance
2019-01-22 15:03:53
2021-02-03 09:48:29
Maintaining the Exterior of your Holiday Home